2017 Acura NSX: Next Generation Supercar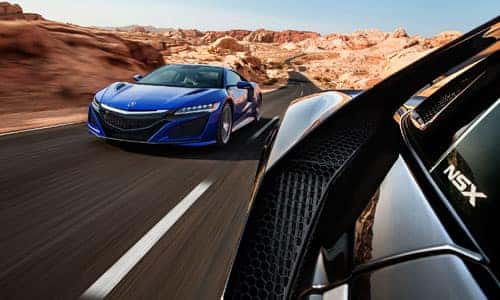 Driving enthusiasts and Acura fans around the globe have fallen in love with the 2017 NSX and for good reason.  Acura is now celebrating the highly anticipated launch of its new 2017 NSX models at its state-of-the-art facility in Marysville, Ohio. That facility, dubbed the Performance Manufacturing Center (PMC) will serve as the exclusive home for future generations of NSX models. That will make the Acura NSX the only supercar to be manufactured in America.
The 2017 Acura NSX ushers in a new era of thrilling hybrid supercars. It is equipped with a 3.5-liter V6 Turbo that is operated by a 9-speed twin-clutch automatic transmission that makes a 0-60 sprint in 3.1 seconds. By multiplying amps and volts, the NSX solves the issue of turbo-lag. The body is composed of aluminum and carbon-fiber, perfectly balanced for efficiency and performance. Altogether, this power system drives the new 2017 NSX to get up to 573 horsepower through a nine-speed, dual-clutch transmission to reach a blistering top speed of 191 miles per hour.
To go along with exceptional performance is the beautiful interior lined with beautiful leather and state-of-the-art technology. Come visit Acura of Fayetteville today and see what makes the 2017 Acura NSX a next generation supercar.