Acura NSX: Winner of Road & Track's Performance Car of the Year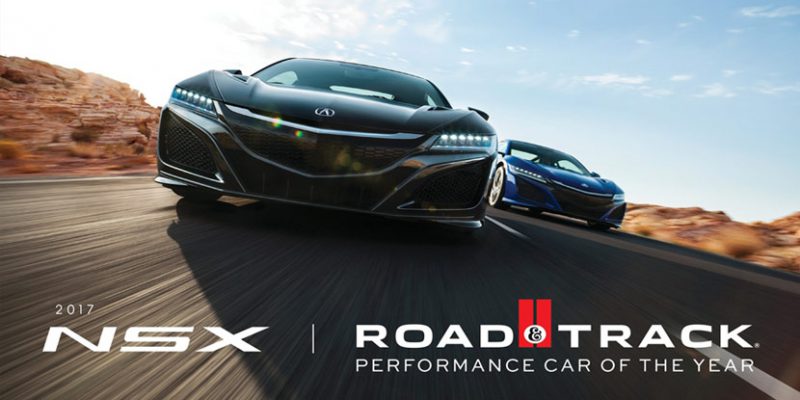 Acura of Fayetteville is proud to announce the Acura NSX took home the award for Performance Car of the Year for 2017. After competing against 10 other vehicles, the Acura NSX came out on top. But what made it standout?
Incredible Power
The main engine is a 3.5-liter V-6 that offers up 500 horsepower and 406 pound-feet of torque. There are also electric motors to give you immediate torque and acceleration. Combined, the engine and electric motors give you an impressive 573 horsepower and 476 pound-feet of torque. If you hit the track, you can go from zero to 60 mph in 2.7 seconds and reach a top speed of 191 mph. The unique engines of the Acura NSX offer plenty of exhilarating power.
Cutting-Edge Design
Every curve and feature on the Acura NSX exterior plays an important role in aerodynamics. With the help of design lines that are carved into the side of the sports car, total airflow management is balanced for improved performance and efficiency. Additionally, both front airflow intakes and side airflow intakes help maximize cooling, while front airflow exits provide downforce.
Integrated Dynamics System
With the creation of the Integrated Dynamics System, you can change how the sports car looks, feels and sounds by choosing one of four modes available. While the default mode, Sport, gives you gray gauges and a throaty growl from the engine, Sport+ offers a full-throated engine, red gauges, and faster shifting.
When you need to cut down on the noise, Quiet mode switches to the electric engines and the gauges turn a soft blue. Track mode is the best mode for circuit driving. The engine intake sound is uncontrolled, the gauges gleam bright red, and you will receive the best acceleration.
Driver Centered Cabin
Once you climb inside the Acura NSX, you may discover a cabin so comfortable that it is simply an extension of your own body. The leather seats are smooth but contain enough grip to cut down on any shifts or movement while driving. Additionally, the oblong shape of the leather-wrapped steering wheel provides you better leg clearance at the bottom and an unobstructed view at the top. With the help of indentations at both the 10 and 2, and 9 and 3 positions you have an even easier grip on the steering wheel.
To discover for yourself why it took home the Road & Track Performance Car of the Year award, head to Acura of Fayetteville to give one a test drive. Check out our other models here.