Scheduling Service Online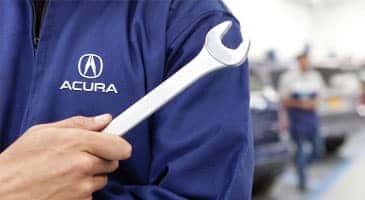 Acura of Fayetteville's online service scheduling system makes it a snap to schedule a service appointment, no matter the time of day or day of the week. The scheduling system is ready and waiting for you, around the clock.
Click "Service & Parts" on the navigation menu at the top right side of the acuraoffayetteville.com website, then click "Schedule Service" from the drop-down menu. The subsequent page has four choices: "Log Me In," "Find Me," "I'm New Here," and "I'm in a Hurry."
If you need to bring your Acura in today or tomorrow (and you've never used the system before), click "I'm in a Hurry" to get directly to the scheduling page. A drop down menu will provide a list of the next available appointment times. Once you've selected the most convenient time, click the "OK, Book It" button.
You'll need to enter your contact information on the Review & Book page and click the Your Vehicle and Services "Edit" button. There are four tabs on this page: "Vehicle," "Services & Repair," "Appointment," and "Review & Book." Enter your information on each of the tabs.
The "Services & Repair" tab has the most frequently performed service procedures listed. You can quickly pick and choose from AcuraLink Maintenance Minders (including oil changes), as well as tire rotation, wiper blade changes, wheel alignment, and other procedures. If you're not sure what your vehicle needs, you can describe any issues in the text box at the bottom of the page.
The "Appointment" tab displays a full calendar. Blue appointment spots are available, while grayed out spots are filled. There are three transportation options for your convenience: drop off, shuttle, and wait. Our handy shuttle service will take you where you need to go, within a 10- to 15-mile radius of the dealership. If you choose to wait at the dealership, we offer a number of amenities, including a child-friendly waiting area and Wi-Fi.
Try Acura of Fayetteville's 24/7 online scheduling system the next time your Acura is due for service. It's quick and easy!