Thank You All..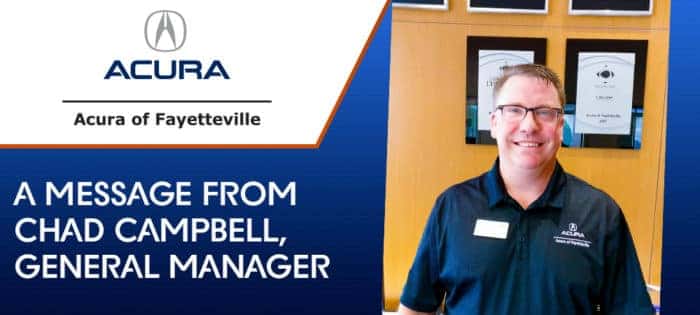 Our General Manager, Chad Campbell, wanted to send all of our customers a quick note on how appreciative he is for all the hard work his team puts in and the great customers we have. Thank you all…
Hello,
I want to take a moment to let you know how grateful I am that you chose Acura of Fayetteville as your dealership of choice.  It's you, our customer, that we look forward to serving each day.  I am also thankful for our hardworking employees who are committed to making sure your needs are taken care of with each call or visit.
We are proud to represent Acura and all that it stands for.  A fun fact most people don't know is that Acura holds the distinction of being the first Japanese automotive luxury brand.  Other companies followed Honda to create a luxury division shortly thereafter.  Acura has continuously proven to manufacture high quality, affordable luxury vehicles.   We're glad you see the value and quality of this brand and chose our dealership. We're also grateful that many of you have recommended us to family and friends over the years. 
If you ever have a question, concern or suggestion on how we can improve, email me directly.  I always appreciate customer feedback.  Thanks for choosing Acura of Fayetteville.
Sincerely and gratefully yours,
Chad Campbell, General Manager
C.Campbell@PenskeAutomotive.com