Things to Do This June in Fayetteville
School is out, June has arrived, and summer has finally come to Fayetteville. June is both the first official month of summer and the month we celebrate all things dad, so if you're looking for a creative way to enjoy father's day, look no further! The team over at Acura of Fayetteville has you covered with a list of fun, creative things to do in Fayetteville in June. 
Botanical Garden of the Ozarks: Free Summer Concert Series
If you and your family adore music, then you'll have a blast at the Botanical Garden of the Ozarks' summer concert series. With events on June 26th, July 31st, and August 21st, the gardens will play host to a variety of different bands. You and your family can bring lawn chairs and blankets to enjoy the show, which will start at 7:00 p.m. The June performance, "Red, White, and Bloom," features the Arkansas Winds Community Concert Band. 
Artosphere
This June, Fayetteville comes alive with Artosphere, the two-week-long art festival centered on conservation, education, and, of course, art. Running from June 10th-June 23rd and featuring visual, digital, mixed-media, choral, and orchestral components, there is sure to be an event that inspires you (or the dad in your life). Check out percussion group Arx Duo's striking concert or enjoy the Beethoven's Masterwork orchestra performance–it's up to you. On June 15th and 16th, the Trail Mix portion of the festival takes participants out into nature, with musicians performing at the Walden Arts Center campus and on Fayetteville's Frisco Trail. Interested? You can learn more here. 
Day at the Lake
Searching for the perfect Father's Day activity? If you live in or around Fayetteville, AR, then you're in luck: you're perfectly situated to enjoy a day in the great outdoors at one of our beautiful local lakes. Lake Fayetteville is one of our favorite spots. With hiking trails, a paved walkway, and paddle boats for rent, you and your family have a plethora of outdoor activities to choose from. If you're serious about fishing, then Lake Bentonville has what you're looking for. Anglers, catfishers, and everyone in between will love fishing in this beautiful expanse of water. Of course, if you don't mind the drive, then Roaring River State Park in Missouri is dedicated to fishing, hiking, and nature. Whatever you choose, we're sure you'll have a blast.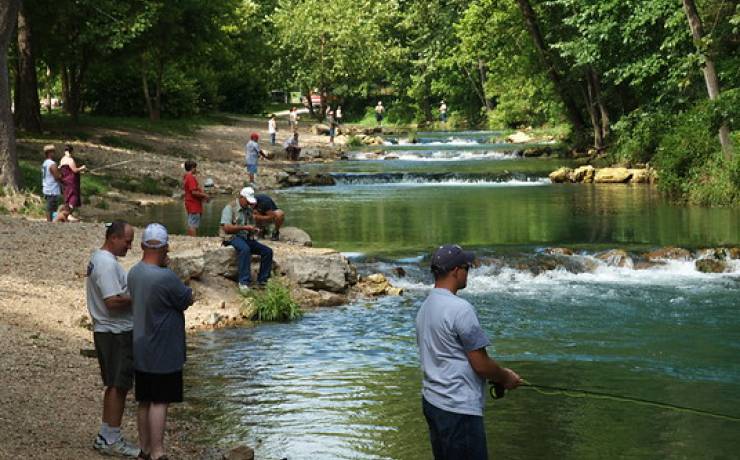 The summer is off to a great start so far, and we hope you're all having a blast. Whether you're celebrating Father's Day with a dad, stepfather, uncle, grandfather, or other father figure in your life, the team here at Acura of Fayetteville wishes you a fun-filled June.